We are very pleased to be able to offer this twoday "By Hand & Eye Design Workshop" taught by George Walker. Click here to learn more about George. Use this link for the list of tools to bring to class.
"Design is like gravity – the force that holds it all together." Edgar A. Whitney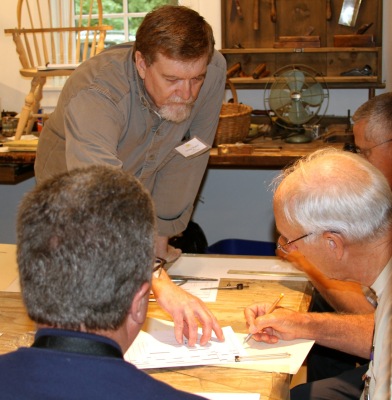 Most of us know instinctively when a design looks pleasing, but struggle to explain why. Or we might sense it falls short, but are left with just a vague feeling that something's amiss.
George Walker's fun-filled workshop will change the way you see and build furniture, with a focus on simple exercises that will awaken your inner eye. Students are encouraged to bring along an idea for a project and can expect to leave with a design ready to build.
You'll learn to unpack masterworks and see the inner structure, along with drawing techniques to grasp how proportions work to create pleasing designs.
Peppered throughout will be practical layout exercises aimed at helping you bring the lessons to life at the workbench. Students will gain confidence to make sound design decisions and learn to trust their eye.
Day 1 – Make Music with Proportions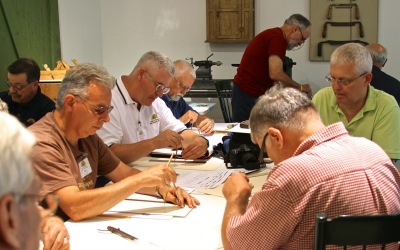 Understanding how proportions work is the key to unlocking your intuition. Proportions can be used to create, patterns, rhythms, transitions, and visual harmony.
Learn how to use proportions in different ways to lead the eye. Students will work up a design for a cabinet as a building block to explore the concepts.
Time will be allotted for students to begin work on their personal project with coaching from the instructor.
Day 2 – Off-Road Design – Going Beyond Straight Lines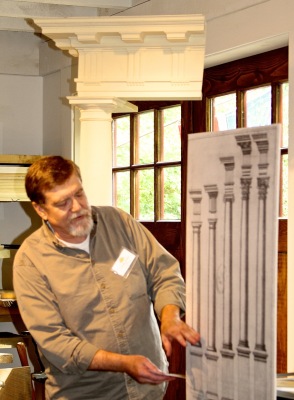 Explore how curves bring life to a static design by combining fast/slow, convex/concave, and major/minor curves. Students will explore how to compose fair curves and how the complex is often made up of simple curves.
Learn to experiment and play with curves by integrating curvature into their cabinet and personal project. Learn how to integrate ornament so it appears organic with a sense of delight and avoid the pitfall of kitsch.
Explore methods to transfer this proportional knowledge to the actual work at the bench using storyboards and scaling up proportions with a sector and dividers.
Techniques for laying out large scale curves and creating templates will be covered.
After completing this workshop you should have a practical knowledge of:
How proportions are used to create pleasing harmony and patterns in a design.
How to unpack and study the inner structure of masterworks.
How to quickly rough in an idea and organize the space within a form.
Techniques for making design adjustments instead of stabbing in the dark.
Confidence at introducing curvature to your work.
Tools needed:
Sketch pad, plain white spiral bound artists pad 9X12 or 12X18.
Two pair of dividers, it's handy if they are two different sizes (6″ & 10″)
A pair of compasses
45 degree drafting triangle
Straight edge, 12″ long is fine
Pencil / eraser / Sharpener
Exacto knife or sharp marking knife
Optional – Artist marking pens (magic markers) in a couple of earth tones (browns). Pick up at any craft store that sells art supplies.
About George Walker:
George pens the "Design Matters" column for Popular Woodworking Magazine and hosts a furniture design blog with the same name. An enthusiastic woodworker for over thirty years and a writer for much of that time, his latest project is the book By Hand & Eye co-written with Jim Tolpin and published by Lost Art Press. By Hand & Eye is a primer on unlocking your ability to visualize using time honored classical methods to train the eye. He's also hosted a series of instructional DVD's for Lie-Nielsen Toolworks covering furniture design basics. The first title released in April 2009, Unlocking the Secrets of Traditional Design covers basic proportional theory and application. Currently he is working with Jim Tolpin on a workbook to supplement "By Hand & Eye" In addition he has written for American Period Furniture, Fine Woodworking, and Woodcraft Magazine.
George is also a weekend naturalist with a keen interest in botany, birding, and a bit of astronomy to round things out. He shares frequent hikes with his lovely wife Barb, who has a long list of furniture still waiting to be built.