Since 1972 Richard Grell, a completely self-taught and highly talented man, dedicated to fine woodworking in the style of America's 18th century craftsmen, has been creating what are considered to be the finest Windsor chairs available today.
Miniature Windsor Chairs
Many of the larger Windsor chair styles are also available as miniatures. Click here to visit our Miniature Windsor chair store. Like his full size Windsor's each miniature Windsor chair is handmade using the same processes, tools and wood from his farm in Hudson. Click here to see our video showing me making the Miniature Windsors.
Click here for information about "The Master Craftsman" on PBS Western Reserve.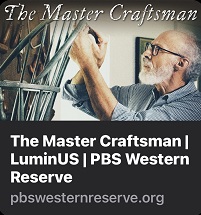 Richard Grell's Windsor chairs have been featured in many books and periodicals, including:
*Judged One of America's Best & Listed in the Directory of Traditional American Crafts, Early American Life® magazine
**Inducted into The 2003 Country Living Guild