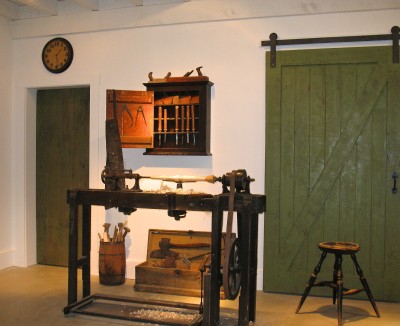 Much has been written and said over the years about how influential my grandfather was in shaping my passion for woodworking but not much has been said about him.
Grandpa Grell was the quintessential twinkly- eyed gentleman.  He owned a business as a builder/contractor and stonemason;  driven and hard working with Superman's strength and not much tolerance for laziness or wasting time.  When it came to learning, it was, "learn it right the first time".  I'm sure that is why he taught me how to use and care for  real  antique hand tools beginning at age five…  "Learn it right the first time",  he was a master craftsman and teacher.
Grandpa Grell built a small English cottage style home with manicured gardens for my grandmother.  He built a two-story brick workshop behind their home for himself.  I have to laugh, it was slightly larger than their house.  Knowing my grandmother, I'm sure she made a few comments about that.
The stone path to his workshop wound through the gardens with a stone bridge over a  small pond, home to their fish and resident turtle, Jerry.  His shop was a magical place for me to go and envelope myself in an environment of inspiration and creativity.  Full of light and positive energy.  I never wanted to leave.
Those experiences are as vivid today as they were sixty years ago, motivating me to continue his legacy by creating an inspirational environment for learning and creativity… using the same antique woodworking hand tools that he entrusted to me,  the tools I  have been using for forty-one years in making my living as a craftsman, Windsor chairmaker, and teacher.
I often wonder what he would think about the legacy of  his antique hand tools that he gave to me and how much he shaped my life.